As you may have noticed, the Lord of the Rings pinball machine has left the building.  Fear not, it will return in a few days (assuming a box can get from the postal hub in Federal Way in two days…), after some very much needed TLC.
More will be posted in the afternoon, after I have a chance to fire it up.  A LOT more.  I plan on fully documenting the cleaning and repair, so you can see just what goes in to maintaining a pinball machine (and so you can see what happens if an operator, sadly me in this case, fails to do routine maintenance).  For now, a few pictures:
First, before.  Again, a pin should be cleaned BEFORE it gets like this.
And second, a picture after a few passes with some Novus no. 2 plastic polish.  This is only the beginning, but already much better.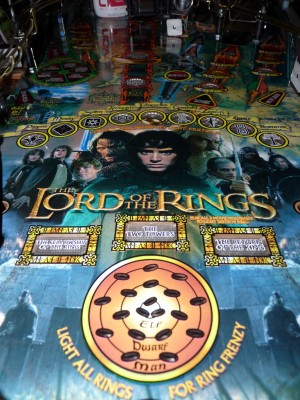 Next, I'll fire it up and check the lights (most of the general illumination lights are burned out, which will be posted about in detail later) before I take anything apart.  Which will happen after I get some sleep.