If you have been in the arcade in the last few days, you can't have missed the new addition.  If you haven't been in lately, the new addition is the new arcade game from Raw Thrills / Konami / Activision, Guitar Hero Arcade!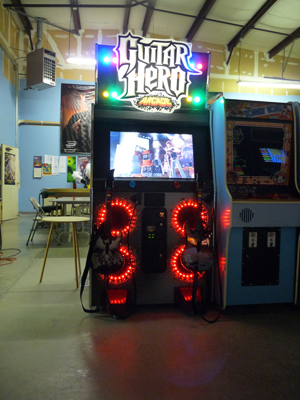 Based on the insanely popular console game series, it currently has over 50 songs from the various iterations of the franchise, and will be expandable to offer even more, as well as online tournaments in the near future.
In other news, if you look right you should see a link graphic for the video game auction site Chase the Chuckwagon.  From the about page on the site, "Launched as a less-expensive auction alternative to eBay is has quickly grown into the most successful video gaming auction site ever. It is an auction site dedicated to classic and modern video games."  I have used this site almost as long as it's been around, most recently to finally add a Dreamcast to my console collection, and highly recommend it.