PINBALL TOURNAMENT
Friday, Sept. 19 – Sunday, Oct. 5th
Win a Data East Laser War pinball machine!
How do you win? Register your initials with Dan, then play the Doctor Who pinball machine any time during the tournament period. The high score on the game at close of business October 5th wins! The only entry fee is the 25 cents per game, and you may play as many times as you like!
An information sheet will be provided on the starting date of the tournament with some basic gameplay information for the Doctor Who pinball machine, tournament rules, links to internet sites related to the game, rules that will be in effect in the event of mechanical failure of the Doctor Who pinball machine, and suggestions for what to do if you want to compete, but don't have the space to own a pinball machine.
About the Laser War machine: A fun, laser-tag inspired game from Data East. The specific machine is working (see note below), in average condition for a game of its age, due to damage to the spaceship toy and some wear, fading, and discolouration on the playfield and artwork. Game will be cleaned and checked for burned out lights prior to being awarded. The game currently has an electronic problem, causing it to occasionally reset during gameplay, which means it is not suitable to operate for money, but for most people will not affect their enjoyment at home. Included with the game will be the operator's manual and an information sheet with a list of internet resources for parts and repair, should you wish to repair the game or have it professionally repaired, as well as basic maintenance information.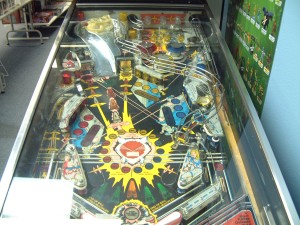 In other news, unless anything else is found wrong with it (when I'm done, something on that pin will work that hasn't worked since before we owned it, which I will post about tomorrow night!), Doctor Who will be returning to the arcade Wednesday, at which time Addams Family will rotate out for some MUCH needed work. Then either Simpsons or Lord of the Rings, depending on which needs tlc more.
I will be catching this blog up over the week (things have been a little hectic, with the amount of things around the house I need to do before fall weather sets in), and probably posting updates daily while I finish up Doctor Who and work on Addams Family. Anyone curious about what the inside of a pinball machine looks like, tune in tomorrow!
(please note, links to the Internet Pinball Machine Database might not work intermittently for a few days, as their physical site was in the path of Hurricane Ike.