Monday, February 14th, 2011
The new Namco arcade game Pac Man Battle Royale is now in the…store.  Yup, Dan has agreed to let us place the game up front and center, because we really wanted to get this amazing multi-player game, and had no clue how to re-arrange the arcade to make it fit.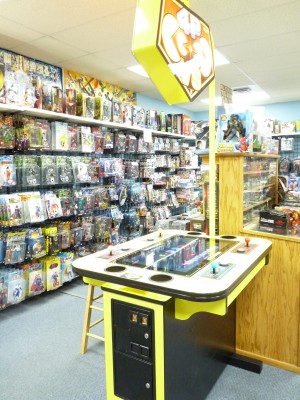 Forgot to post a picture of Rampage, so here it is on location:
Upcoming events and tournaments:
This evening (Feb. 14th) starting at 10 PM, Docking Bay 93 will be hosting a release event for Marvel vs. Capcom 3.  For more details, contact the store.  We should be adding MvC3 to the LAN soon, watch this blog or the Facebook page for updates.
Sunday, February 20th, Pac Man Battle Royale tournament.  No entry fee, just the cost of games played (3-5 at 50 cents each, depending on number of participants), first prize will be a vintage trucker-style Pac Man hat and a card for some free games.
My mouse is randomly clicking, which is making this…fun…to type, so more updates in the next few days.