Saturday, May 30th, 2009
When shopping the Spiderman pinball recently, we took the opportunity to add a few after market products to the game, and I wanted to post a brief note about them (insert quick note about my chronic procrastinating…)
First, the before picture: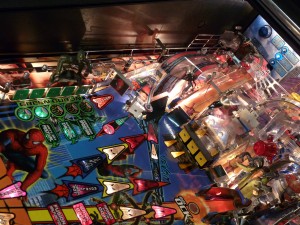 After cleaning, we added decals purchased from www.pinballlife.com, goblin heads for the Green Goblin targets, sandman decals for Sandman (which in my not so humble opinion look much better than the yellow targets), a Daily Bugle sticker for that target (which I'm not sure I like the look of, truth be told, but I don't like the bare white target either, so…), and my favourites, Spiderman symbols for the right target bank:
We also added two lighting kits (also purchased from Pinball Life), featuring coloured bulbs as well as coloured led bulbs and flashers that add a cool effect to the playfield and will last a lot longer than normal bulbs before burning out.  The first set were green lights for the Green Goblin:
And the second set were blue lights for the Venom area: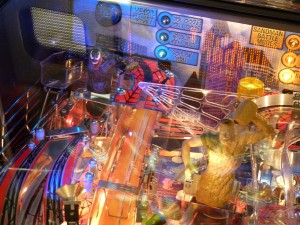 And the finished playfield:
Note to anyone taking pictures of a pinball machine playfield:  leave the glass off the game when you take the picture, otherwise the backbox reflection will obscure the playfield, as above.
Barring the unforeseen, I'll be rewiring Donkey Kong 3 tomorrow, then tackling the monitor, and will post an update here after that.